First Nations Mental Wellness Continuum Framework and Prescription Drug Abuse Initiative hosted by: Native Horizons Treatment Centre. Funded by Health Canada, Ministry of Health and Long Term Care.
First Nations Mental Wellness Continuum Framework
The CWDT will assist First Nation communities to create community driven, community strength-based strategic plans to enhance delivery of community based mental wellness programs and services. Working with the stakeholders of the community, First Nations' leaders, service providers and community members to develop and implement changes based on each community's needs and priorities, drawing on the Framework. Communities will remain the primary agents determining the structure and composition of their mental wellness programs and services.
Prescription Drug Abuse Initiative
What is Prescription Drug Abuse?

Any use that does not follow the dosage and usage direction that is prescribed by a physician/veterinarian. For example: sharing medication, selling or trading, altering the dosage yourself, changing the method – oral, injecting, snorting/inhaling, grinding to powder.
Community Engagement
Following a formal request from the community for assistance, the CWDT begins the process of community engagement and trust building by initial conversations with key stakeholders in the community and conducting an on-site visit.
Assessment
The needs, resources, capacity, gaps in services and direction of the community are assessed.
Developing a Plan
Working with community members, service providers, chief and council, the CWDT facilitates the development of a strategic action plan to address Prescription Drug Abuse.
Implementing the Plan
The Community implements the action plan they've designed that is specific to their First Nation.
Evaluating the Plan
The CWDT may assist with monitoring and evaluation of the plan
At the request of local leadership CWDT's will assist in developing community specific assessments and action plans to respond to high rates of prescription drug abuse within the community.
Consultation Services include: (No fee)
Addictions education and capacity development with service providers.
Establishing linkages to existing mental health and addictions treatment services
Community-based program design planning (pre-treatment detox, treatment, harm reduction, after care, and development of psycho-social supports).
Community engagement workshops
Assisting Communities develop their own facilitation manuals for aspects of Addictions and Mental Wellness
Assisting in developing resource links to Cultural and Traditional Practitioners to create programming consistent with their heritage as First Nations people.
Clinical coaching for social service and health managers and front line workers
Southern Ontario Zone Community Wellness Development Team:
Background
The concept of the CWDT's originated in response to the widespread illegal use and abuse of prescribed pain killers, principally opioids, in the remote First Nation communities of northwestern Ontario.
The Trilateral First Nations Health Senior Officials Committee comprised of: the Chiefs of Ontario, the Government of Ontario and the Federal Government, unanimously agreed that mental health and addictions is a key priority with the focus on addressing the impacts of Prescription Drug Abuse.
Funding for CWDT's is jointly provided by Health Canada and Ministry of Health & Long Term Care.
There are now three Community Wellness Development Teams (CWDT) that support First Nations in the development of action plans to address First Nations Mental Wellness and PDA challenge in two Treatment Centres and Sioux Lookout:
1. Dilico Anishinabek Family Care Services – Thunder Bay
2. Native Horizons Treatment Centre – Mississaugas of New Credit First Nation
3. Sioux Lookout First Nations Health Authority – Sioux Lookout
Native Horizons Treatment Centre is the host agency to Southern Ontario Zone CWDT. Located on the Mississaugas of the New Credit First Nation, NHTC is an accredited culturally-based poly substance abuse treatment centre and has provided residential addiction services since 1990.
Our CWDT is comprised of a Coordinator, Mental Health Specialist and an Addiction Specialist and various consultants, who travel and work with the community at the request of the Chief and Council/Health Director/Community Organization. Utilizing a Native Community Development Model, the team works with service providers to:
Identify the scope of the Prescription Drug Abuse and Mental Wellness issues
Assist in determining what resources are available in the community
Help identify what gaps exist in the treatment continuum
Facilitate solutions from the community to address the impacts
Training Sessions available through the CWDT are
ADAT Training
Addicted Brain
Addiction Treatment
Circle of Care, Community and Case Management
Concurrent (comorbidity) Disorders
Continuum of Care
Healthy Organizations
Health Sexuality and Intimacy

Mental Health Introduction
Motivational Interviewing
Opiate Detox and Treatment (Methadone and Suboxone®)
Pharmacotherapy for Non-Medical Practitioners
Professional Practice, Boundaries and Ethical Practice
Structured Relapse Prevention

Suicide Prevention and Safety Planning
Trauma and Attachment Informed Practice
Working with Depression and Anxiety
Working with Personality Disorders (The Hard To Serve)
Working with Severe Mental Illness (Schizophrenia and Bipolar Disorder)
Youth and Addictions
Youth and Mental Health
Youth Mental Health and Addictions
Coordinator:

Wendy McNaughton

cwdt_wm@nhtc.ca

Addictions Facilitator:

Kim Sault

cwdt_as1@nhtc.ca

Mental Health Specialist:

Brenda Johnson

cwdt_mhs@nhtc.ca
Consultant:
Dr. Jim Cullen
First Nations in Southern Ontario Zone Catchment Area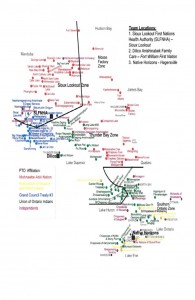 Caldwell
Mississaugas of The New Credit
Wahta Mohawks
Six Nations of Grand River
Mohawks of Akwesasne
Beausoliel (Christian Island)
Munsee-Delaware Nation
Algonquins of Pikwakanagan
Wahnapitae
Whitefish Lake
Wasauksing

Delaware Nation
Hiawatha First Nation
Georgina Island
Chippewas of Saugeen
Chippewas of Mnjikaning
Chippewas of Aamjiwnaang
Alderville
Chippewas of Kettle & Stoney Point
Nipissing
Dokis
Shawanaga

Oneida of the Thames
Mohawks of the Bay of Quinte
Bkejwanong Territory (WI)
Chippewas of Nawash
Moose Deer Point
Curve Lake
Chippewas of the Thames
Scugog
Temagami
Henvey Inlet
Magnetawan
To contact CWDT please send an e-mail below: